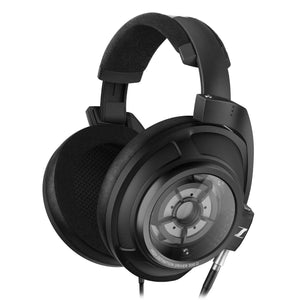 Product Description
For audiophiles there wasn't any doubt: When it came to circumaural headphones the very best sound required an open back design. This axiom has now been rendered obsolete by the youngest member of the Sennheiser Audiophile Range: The closed dynamic HD 820 employ an innovative technology that makes them sound breathtakingly transparent and natural.
Impressed with the HD 820
I'm a disabled veteran with severe tinnitus that can go to grade 5 which is also called catastrophic. In order to keep my tinnitus from going catastrophic I need to be able to effectively mask the ringing with clean, clear, dynamic audio. Poor quality audio has to be louder to mask and over time that negatively effects the eardrum. For many years now I've been using the HD800's paired with the HDVD800 amp to mask because the clarity of the audio is head and shoulders above any of the other headphones I've tried. Sadly the constant everyday use has taken it's toll on them and they've become a bit fragile so I decided I needed to get a new pair and put these away until I can get them refurbished. They still sound great. I was originally going to go with the 800S but after reading about the 820's I decided to give them a try even though every pair of closed back headphones I've tried were not good for my tinnitus. They made me feel like my head was in a can and, depending on the headphones, made my tinnitus go up. Within seconds of putting the 820's on I knew they were nothing like any other closed back headphones I'd ever tried and they even sounded better then every pair of high end headphones I tried except for the HD800. I love the fullness of the low end which is better then the 800's and the clarity overall is just as amazing yet I don't feel like I have my head in a can. Using them with my Luxman amp has me hearing my record collection in a very sweet new way. Their use literally relaxes me and when I'm relaxed my tinnitus comes down so thank you Sennheiser and keep up the good work....
A way to another world
I had tried HD 820 and liked it very much before buying it on this website.
It has a kind of magic to lead a user to enter a wonderful world of music.
Great Headphone but....
Headphones are great but the package is really disapointing. For this price, the quality of the box and the whole package setting is ridicolous. Even a pair of 300$ headphones make a better appearence. Even the way the headphones were in the box, not properly, cables were just thrown inside the box, no love for the little things. Really, my experience when unboxing the headphones was very bad. Other manufacturer do it better, way better.
HD 820?
Hey are GOAT - I mean come on. Just buy them!
---
choosing a selection results in a full page refresh
press the space key then arrow keys to make a selection